At Washateria, our mission is to provide our customers with the highest quality washers and dryers for completing their laundry tasks. That is why we've partnered with Electrolux Laundry Equipment. Electrolux is the leader in innovation and efficiency. Their easy-to-use washers and dryers are highly efficient. When you use Electrolux machines to wash your clothes, you help protect the environment by saving both water and energy. Keep reading to learn more about our superior laundry equipment.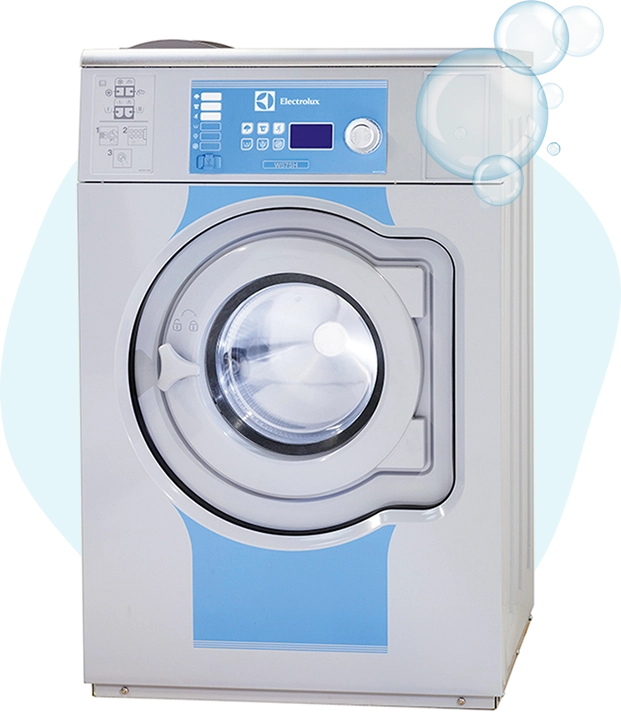 Electrolux High
Speed Washers
Electrolux high-speed extraction washers minimize drying time and provide significant energy savings. You can trust these machines to wash your clothes quickly and efficiently. This means less waiting time and added convenience. Electrolux washers also offer cool features like optional voice guidance and text messages notifying you when your wash is done!
Electrolux High-Speed Washer Features Include:
Easy-to-use Compass Pro microprocessor—one knob does it all!
More than 20 languages available
Real-time clock for premium convenience
Text messaging and voice guidance options
SuperBalance and PowerBalance for optimum performance
Sanitizing rinse for superior cleanliness
Heavy-duty construction
Extremely low water and energy consumption
Electrolux Energy
Efficient Dryers
Electrolux professional-grade dryers dry your clothes 12% faster than competing brands—and even faster when paired with Electrolux high-speed washers. These dryers are constructed with "green" engineering for optimum energy efficiency and a reduced carbon footprint. You will love the high-speed drying and user-friendly controls!
Electrolux Energy-Efficient Dryer Features Include:
Easy-to-use Compass Pro microprocessor—one knob does it all!
More than 20 languages available
Improved lint screen—the best in the industry!
Real time clock for premium convenience
One-phase reversing
Fast drying times—dries 12% faster than competing brands!
Extremely low energy consumption
EcoPower for further reduced energy use and less wear-and-tear on garments